Beer & whisky tasting in Scotland
I took the most amazing trip to Scotland and Belgium this summer. Initially, I wasn't nearly as excited about visiting Scotland as I was about Belgium, but after spending ten days there I must admit that Scotland is quite possibly my favorite country to visit in Europe!
For one, the scenery and beauty of the landscape, which is dotted with castles, medieval ruins, mountains, and lochs, is incredible. In addition, the people are super friendly and culturally similar enough to your average American that it's almost too easy at a bar, say, to quickly fall in with a group of locals and be cracking jokes and having a great time.
Scotland is definitely a whisky drinking country, however, thanks to the success of the UK's CAMRA group, in their decades-long fight to keep the Real Ale flowing, the entire UK has a continuing tradition of great beer. Those traditional English, Scottish, and Irish styles are now being supplemented by a new wave of American-style craft breweries that are doing huge hoppy beers, barrel aging massive malty brews, souring fruity ales, and everything and anything else that challenges tradition. What was perhaps most exciting about the Scottish beer scene was experiencing the passion of the beer lovers and brewers there. The latest craft beer revolution is really just exploding in the UK and wowzers are folks super excited about it! My impression is that you just don't get this kind of hugh geeky excitement from beer communities in places with mature beer scenes, where it isn't as big of a deal...like in Belgium for instance. That's obviously a highly debatable statement and I'm painting with a broad brush, but that's how it struck me.
I was lucky to get to sample a good deal of the amazing new UK craft beer at excellent bars including BrewDog and The Hanging Bat in Edinburgh, The Anderson in Fortrose, and Tomlinson's Beer Shop in Inverness. Newer breweries like Brodie's, Magic Rock, organic Black Isle, The Kernel, and dozens of others are following in the trail blazed by new big shots like BrewDog.
And jeez, that's not even mentioning the incredible Scotch whisky. I tasted at Oban, Tomatin, and several bars that specialized in whisky. I learned a ton about whisky on this trip and realized I need to dig deeper into it and really start tasting and analysing it like I do with beer.
As for food, we found that despite the UK's reputation for being all about greasy pub food, we ended up having a slew of amazing meals. I credit this largely to talking to locals about where to go and using RateBeer Places to find fine beer and food spots. By the way, try haggis, it's actually pretty damn good...it's very much like scrapple, if you know what I'm talking about.
All I can say in conclusion is...get your ass to Scotland on your next trip to Europe, because it's amazing! Here are some of my pics, about half are beer and whisky related, the other half are shots of Scotland. Enjoy!
Brought six Pliny the Elders, bottled only a week before I left, to trade or gift with fellow beer geeks in Scotland & Belgium.
The Haggis & Whisky House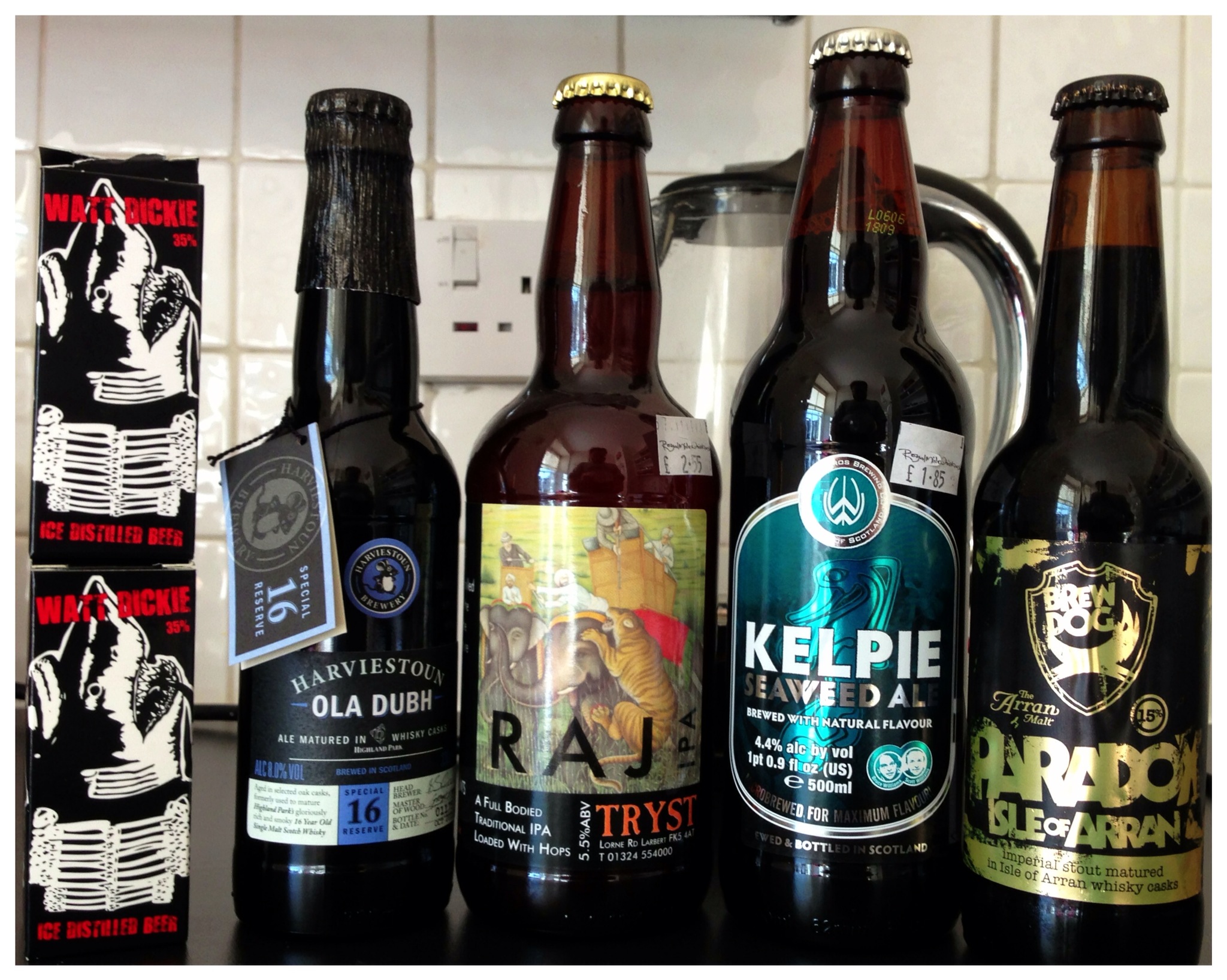 Downing a Scottish real ale
Tell us about last night well, we had a wee Ferintosh, and we lay on the Quirding. It was pure Strontian! - Edwin Morgan (P.S. those words you don't know are all whiskys)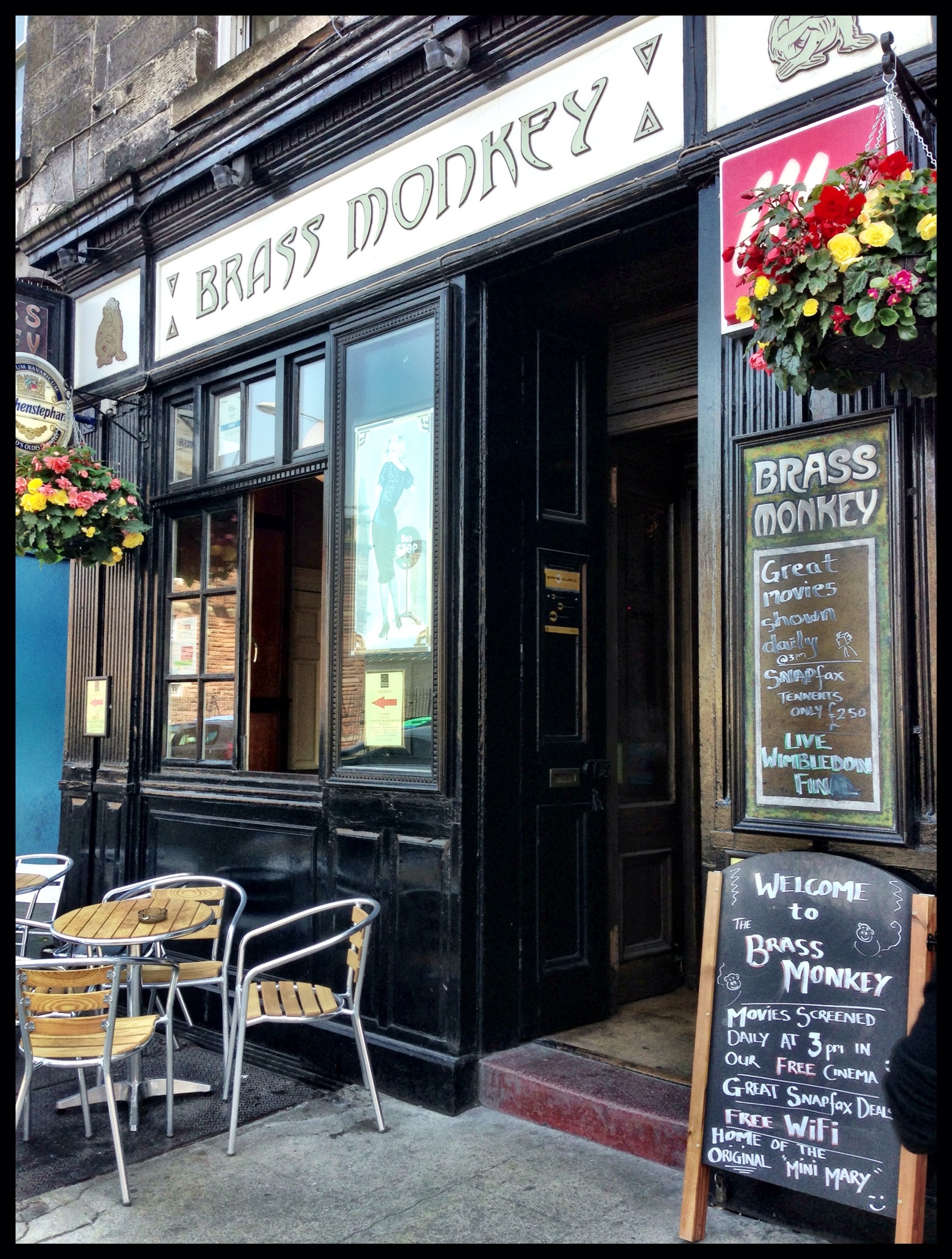 Glenfarclas 25, a favorite
the great tap list at The Hanging Bat in Ediburgh
The Hanging Bat in Ediburgh
The Hanging Bat in Ediburgh - a bunch of brews from Magic Rock and Brodie's
The Hanging Bat in Ediburgh
The Hanging Bat in Ediburgh
The Hanging Bat in Ediburgh
The Hanging Bat in Ediburgh
the best deal in the entire UK
Got a big free upgrade on the rental car. Driving on the left is scary for the first day or two.  
Ola Dubh 18 - an excellent beer
The Kernel, a UK brewery to watch, they make excellent beer.
Traditional Scottish band with a piper playing at Lochailort Inn on a Sunday night
Lochailort Inn has excellent haggis and venison burgers!
Glenfinnan viaduct - where the old steam train in the Harry Potter films passes by
Cairngorm's Nessie's Monster Mash
The Terror of Tobermory Special Ale, from the Isle of Mull
Yep, that's the ruins of some random castle out on that island... 
You can't go to the UK without hitting up Wagamama's!
Glenfinnan viaduct - where the old steam train in the Harry Potter films passes by
Glenfinnan viaduct - where the old steam train in the Harry Potter films passes by